We will continue to grow into a company with vigor and potential in an effort to serve customers and society.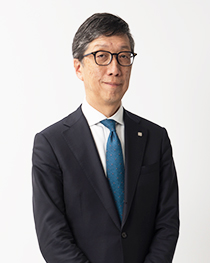 ASAHI YUKIZAI CORPORATION was established at Nobeoka in Miyazaki Prefecture, not very far from Takachiho, known as the place of the descent of Deity Amaterasu's grandson, in March 1945 before the end of World War II as a manufacturer of aircraft components. The components were made from wood, instead of metals which were then in short supply.
Since then, we have maintained our founding philosophy of replacing metal materials with organic (i.e., plastic and wooden) materials and have significantly developed our Valve & Piping Systems Business, a segment dealing in valves, joints, pipes and others, creating the world's first plastic valves based on rustproofness, chemical resistance, lightweight and other characteristics of plastics.
In addition, we have been operating the Resin Business, which deals chiefly with phenol resins, resin coasted sand (RCS) and foaming materials. The RCS refers to sand impregnated with phenol resins and used for casting purposes. We are proud to have contributed to Japan's automobile and other transport equipment industries through our efforts to improve the quality of cast products such as engine components.
In September 2013, we acquired Drico, Ltd. in anticipation of synergy with our Valve & Piping Systems Business. Drico operates a water treatment business covering waterworks, gray water supply systems and sewage systems and a resources development business, which drills wells for geothermal power generation and hot springs.
We will seek to bolster the strengths of these three core businesses, namely the Valve & Piping Systems Business, the Resin Business and the Water Treatment & Natural Resources Exploitation Business, to benefit customers and achieve global expansion. In the meantime, we will be working actively to create new businesses in surrounding areas.
With the aspiration of becoming a company with even greater vigor and potential, all staff members at our Group will work together to constantly address challenges and reforms. We aspire to create new value by helping people enjoy richer lifestyles.