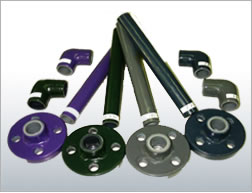 We produces polyvinyl chloride (PVC) composite pipes and joints integrated and reinforced with fiberglass reinforced plastics (FRP) and pre-fab products (by dispatching supervisors).
AV pipes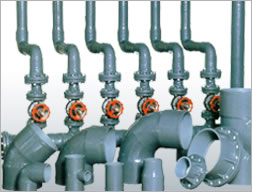 1.

Hard PVC pipes
A special method exclusively for the ASAHI AV series is employed to eliminate residual stress from the pipe.

2.

Treated surface
The pipe surface is treated to increase the adhesiveness of the primer.

3.

Special primer
A special primer that bonds the hard PVC tube with the FRP layer is adopted.

4.

FRP layer
It is reinforced with lamination created by impregnating glass fibers with polyester resins.

5.

Surface finish layer
This finish layer is made of a corrosion-resistant polyester resin.
Features of FRP-reinforced PVC products
Superior in chemical resistance (Ideal for plants handling acids, alkalis or halogens)
A high level of mechanical strength (Excellent impact-resistance strength thanks to massive pressure capacity)
Good heat resistance (May be used for long-term under high temperature conditions)
A low coefficient of linear expansion (around half that of PVC)
No risk of exterior corrosion or electric corrosion (perfect insulator)
Lightweight
Easy to work
SU type / Standard (maximum temperature for use: 90 deg. C) It is a reinforced by FRP resin layer prepared with a U-PVC pipe and fittings.
GU type / High Grade (maximum temperature of use: 95 deg. C) By adding to reinforce the FRP layer, it may be used under high-temperature and high-pressure conditions.