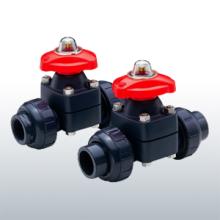 Features
Easy Maintenance

The valve body can be removed from the pipe line by loosening the union nuts at both its ends.

Bottom Stand for Easy Support

Having a new bottom stand with an insert hole, DIAPHRAGM VALVE TYPE 14 helps support the piping. The valve is also provided with a flange stand to increase installation safety.

To view a PDF file, you will need Adobe Reader, available free from Adobe Systems. Adobe, the Adobe logo and Reader are trademarks or registered trademarks of Adobe Systems Incorporated in the United States and in other countries.