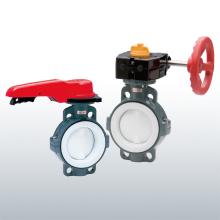 Features
Extreme Corrosion Resistance

All of the wetted parts are completely covered with PTFE, which can result in excellent performance against a highly corrosive media.

Improved Cv Value

Thinner disc makes the area of flow passage wider and the Cv value is improved as a result.

Excellent resistibility to high and low temperature.

BUTTERFLY VALVE TYPE 55 can be used continuously at the range from -20℃ to 100℃ (-5°F to 210°F)

Simple Structure for Stem Sealing

Simple structure for stem sealing offers high reliability and also allows for easy maintenance.

To view a PDF file, you will need Adobe Reader, available free from Adobe Systems. Adobe, the Adobe logo and Reader are trademarks or registered trademarks of Adobe Systems Incorporated in the United States and in other countries.