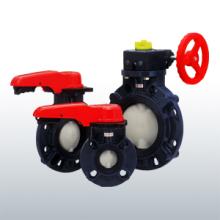 Features
Excellent Sealing Performance

Sealing performance has been improved due to its specially designed seat "PAT pending".

Lowered Operating Torque

Required operating torque has been reduced by applying specially designed seat.

Protection for Over Tightening of Mating Flange

The valve body acts as a protector against over tightening to avoid breakage or deformation of the seat.

Spherical Design Disc

Spherical design disc provides superior durability and improved Cv value.

Stem Retainer

Stem retainer allows field automation or accessories preventing the stem from being removed.

Newly Developed Plastic Gear Box

Corrosion resistant plastic gear box provides a broader range of applications.

To view a PDF file, you will need Adobe Reader, available free from Adobe Systems. Adobe, the Adobe logo and Reader are trademarks or registered trademarks of Adobe Systems Incorporated in the United States and in other countries.