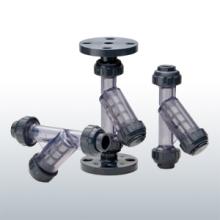 Features
Because of its plastic body, the sediment STRAINER (Y) is higly corrosion chemical and wear resistant.
The body is transparent, so that flow through the STRAINER can easily be checked.
The sediment STRAINER is easy to disassemble and reassemble to clean or replace its screen.

To view a PDF file, you will need Adobe Reader, available free from Adobe Systems. Adobe, the Adobe logo and Reader are trademarks or registered trademarks of Adobe Systems Incorporated in the United States and in other countries.